Live Sport in Ned Kelly's!
Top Sport in HD quality. With up to 4 large TVs as well as a full wall Big Screen, we offer coverage of Football, Rugby, NFL, select AFL and GAA as well as many other sports in an atmosphere comparable only to being live at the game with excellent picture and audio quality. We also cater for customer requests. If there's a game you would like to see, contact us and we will do our best to show it. We also open early or late to show games outside of our opening hours.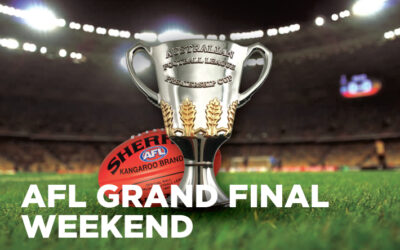 Saturday 30. September – AFL Grand Final Day kicks off at 6am, Join us for a pre-Oktoberfest Aussie brekkie and get your Saturday started in the right way!
September 🍻🥨
Wednesday 20th
Rugby World Cup – Italy v Uruguay 17:45
Champ. League – Real Madrid v Union Berlin 18:45
Champ. League – FC Bayern München v Manchester United 21:00
Thursday 21st
Europa League – LASK v Liverpool 18:45
Rugby World Cup – France v Namibia 21:00
Friday 22nd
AFL – Collingwood v GWS Giants 11:50
NRL – Panthers v Storm 11:50
Rugby World Cup – Argentina v Samoa 17:45
B'Liga – VfB Stuttgart v SV Darmstadt 20:30
Saturday 23rd
AFL – Brisbane Lions v Carlton 09:15
NRL – Broncos v Warriors 11:50
Rugby World Cup – Georgia v Portugal 14:00
B'Liga – Konferenz 15:30
B'Liga – FC Bayern München v VfL Bochum 15:30
Rugby World Cup – England v Chile 17:45
Rugby World Cup – South Africa v Ireland 21:00
Sunday 24th
Prem. League – Arsenal v Tottenham Hotspur 15:00
Prem. League – Liverpool v West Ham 15:00
Rugby World Cup – Scotland v Tonga 17:45
NFL Game Day Wk3 
RedZone 19:00
New England Patriots @ New York Jets 19:00
New Orleans Saints @ Green Bay Packers 19:00
LA Chargers @ Minnesota Vikings 19:00
Carolina Panthers @ Seattle Seahawks 22:05
Dallas Cowboys @ Arizona Cardinals 22:25
Chicago Bears @ Kansas City Chiefs 22:25
Rugby World Cup – Wales v Australia 21:00
Tuesday 26th
DFB Cup – Preussen Münster v FC Bayern München 20:45
EFL Cup – Manchester United v Crystal Palace 21:00
Wednesday 27th
Rugby World Cup – Uruguay v Namibia 17:45
DFB Cup – Wiesbaden v RB Leipzig 20:45
EFL Cup – Newcastle United v Manchester City 21:00
Thursday 28th 
Rugby World Cup – Japan v Samoa 21:00
Friday 29th
B'Liga – TSG Hoffenheim v Borussia Dortmund 20:30
Rugby World Cup – New Zealand v Italy 21:00
Saturday 30th
AFL – Grand Final 06:30
Prem. League – Aston Villa v Brighton 13:30
Rugby World Cup – Argentina v Chile 15:00
B'Liga – Konferenz 15:30
Rugby World Cup – Fiji v Georgia 17:45
Prem. League – Tottenham Hotspur v Liverpool 18:30
B'Liga – RB Leipzig v FC Bayern München 18:30
Rugby World Cup – Scotland v Romania 21:00
October
Sunday 1st
NRL Grand Final TBD
Rugby World Cup – Australia v Portugal 17:45
NFL Game Day Wk4 
RedZone 19:00
Miami Dolphins @ Buffalo Bills 19:00
Washington Commanders @ Philadelphia Eagles 19:00
Denver Broncos @ Chicago Bears 19:00
New England Patriots @ Dallas Cowboys 22:25
Arizona Cardinals @ San Francisco 49ers 22:25
Rugby World Cup – South Africa v Tonga 21:00
Tuesday 3rd
Champ. League – Union Berlin v Braga 18:45
Champ. League – Salzburg v Real Sociedad 18:45
Champ. League – FC Copenhagen v FC Bayern München 21:00
Champ. League – Manchester United v Galatasaray 21:00
Wednesday 4th
Champ. League – Atlético Madrid v FC Feyenoord 18:45
Champ. League – Newcastle United v PSG 21:00
Champ. League – Borussia Dortmund v AC Milan 21:00
Champ. League – RB Leipzig v Manchester City 21:00
Thursday 5th
Europa League – Liverpool v Union St. Galloise 21:00
Rugby World Cup – New Zealand v Uruguay 21:00
Friday 6th
Formula 1 – Qatar GP Qualifying 19:00
Rugby World Cup – France v Italy 21:00
Saturday 7th
Rugby World Cup – Wales v Georgia 13:00
Rugby World Cup – England v Samoa 15:45
Formula 1 – Qatar GP Sprint 19:30
Rugby World Cup – Ireland v Scotland 21:00
Sunday 8th
Rugby World Cup – Japan v Australia 13:00
Rugby World Cup – Tonga v Romania 17:45
Formula 1 – Qatar GP 19:00
NFL Game Day Wk5 19:00
Rugby World Cup – Fiji v Portugal 21:00
Saturday 28th
Rugby World Cup – Final 21:00